Residential Pest Control Service – Home Pest Defense Program
Most of you have experienced the common household pest including cockroaches, ants or mice. However, what some people don't know is that these pests can cause damage not just to their homes, but also to their family's overall health. This might also come as a surprise for some to learn that the pest problem may pose a serious threat to you and each of your family members. The most effective and best way to get rid of these problems is by stopping pests before they enter your house.
Our (HPD) or Home Pest Defense Program service features:
Extra services if needed between the scheduled monthly visits at no extra fee.
Treatments around your home's exterior wherein 95 percent of your pests came from.
We will emphasize the potentially conducive conditions for insects around your house.
Inspection inside your home in the winter season.
The most affordable and probably the cheapest solution in keeping your home pest-free.
Our (HPD) service also covers various pests no matter what season of the year is. These include; wasps, centipedes, millipedes, earwigs, silverfish, pavement ants, cockroaches, roof rat, Norway rat, and house mouse.
Our One-Time Pest Control Service
This service is perfect for those of you who are searching for solutions for quick seasonal pest problems. Our team of technicians is happy to serve you and we will make sure that we will treat any pest related problems around your home. Even if these pests could be ants, squirrels, skunks, and so on, you can guarantee that we will do our job with quality and professionalism.
Maximum One-Time Residential Pest Control Service will help you target, locate, and identify the pest you're having problems with. We will also inspect your area to ensure that you will get rid of pests for good. We can also give you a warranty depending on the structural, pest as well as sanitation guidelines.
Maximum One-Time Residential Pest Control Guarantee
Maximum Pest Control caters a re-treatment on majority of one-time services depending on the pest. Each job is different by majority of our guarantee will last for 30 to 90 days. What makes our pest control guarantee is that we will not ask for additional charge if the customer follows an initial preventative instruction provided by our tech during the initial service.
Bed Bugs Removal Pest Control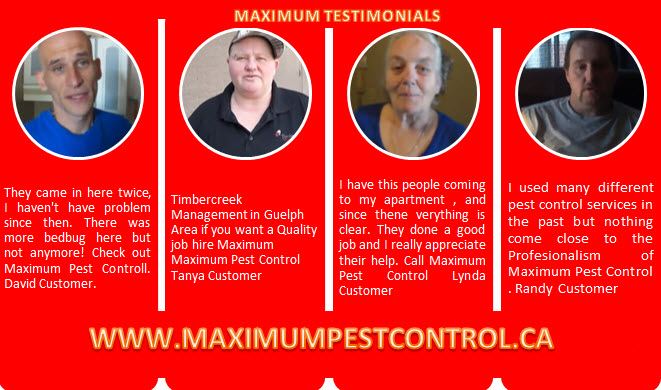 We have been the pest company of choice for ridding properties of bed bugs with our proven to work residential treatments. Upon consultation, we provide our valued clients with guidelines to follow for removing bed bugs (preparation handout). If they don't, we won't guarantee results. We will also perform a 2nd treatment 10 to 14 days after initial, this will get rid of all eggs cycle that ready hatched. Searching for pest control services in Oakville, ON L6J 0A2? The Maximum provider of pest control in Hamilton can help exterminate all pests problems.
Contact Maximum Pest Control Services