We help you remove bed bugs FAST
Searching for affordable and professional bed bug removal service in Hamilton, Oakville, Burlington, Mississauga, or other areas in Ontario?
What if we said that we can offer you simply the best Bed Bugs eradication solution in and around Greater Toronto Area. Would you believe us? Here are some of the reviews for our affordable pest control service removing Bed Bugs
Thank you to Ash, the technician who came to my home was extremely professional and efficient. I would recommend this company to my friends without any reservations. Job well done!
If you have been a victim of bed bugs attack lately, or you suspect that your house has this problem, Maximum pest control services can get rid of bed bugs thoroughly. Because not only do we know how to kill them, we also make sure that bedbugs don't come back bothering you again.
Removing Bed Bugs Using Home Remedies?
Unfortunately, most of the information about how to remove bed bugs using home remedies won't work when it comes to these persistent little monsters. There are many reasons for this, however, we believe this will inform you better
Bed Bugs (also known as wall-lice, lectulariu, Cimicidae, mahogany flats). Cimicidae is the ancestor of modern bed bugs, these insects first emerged approximately 115 million years ago.
All this basically means that they've been around for a very long time and therefore require professional solutions to get rid of and eliminate.
Bed bugs are one of the world's major annoying pests, and infestation is rarely caused by a lack of hygiene. They were first brought to the United States by early colonists, since then, urban bed bug infestation can be seen throughout Canada Ontario Toronto Hamilton, Oakville, Burlington, Mississauga, Milton, Scarborough, and other places.
Growth of bedbug populations in Canada began around 1980's it is believed that this is due to greater foreign travel, increased immigration from third world countries.
Removing bedbugs completely requires planned approach through identification of where the infestation is at your home, how it got there, removal, correct process of preparing before application applied and what you can do after our pest control specialists provide bed bug removal service.
Press Here to Contact Maximum Pest Control Services
Why Contact us for Getting Rid of Bedbugs?
Highly experienced Bed Bug Removal Specialists
We guarantee next day service
Fully licensed by Ontario MOE
We come to you in discrete with unmarked vehicles
Full Weekend Service at no extra charge
Reliable, Flexible & Professional service
Removing Bed Bugs
First thing to do when dealing with pest problem is to "plan your approach". If you've already done that and ready for professional help, simply call 905-582-5502
Common pests found in most Canadian homes include bed bugs, ants, rats and mice and cockroaches. Let us inform you about few simple techniques you can follow right now.
Bed Bugs: They are tiny and wingless insects. Although they hide well and are hard to spot, they usually live in inside the box springs of a bed, in linen, mattress pads, pillows and seams, behind a wallpaper, in electrical outlets.
Prevention of Bed Bugs Infestation: Vacuum often in the areas mentioned above. Eliminate clutter around objects they usually are found in. If you are about to purchase house items and furniture, then, make sure that you thoroughly check and clean them before you bring it inside your house. Learn more about Bed Bugs Control
Once again, planning is critical to eliminate these persistent pest colonies, we first encourage you to not panic, as bed bugs do not usually pose life threatening danger. Integrated Pest Management (IPM) is the best approach to remove bed bugs completely.
Because IPM process combines pesticides, bedbug poison and other removal techniques like routine inspections of furniture, living areas, identification and elimination of bed bug hiding spots. Once the bed bugs are killed, Integrated Pest Management option provides physical removal of bed bugs through unique cleaning methods.
Contact Maximum Pest Control Services
What Do Bed Bugs Feed On?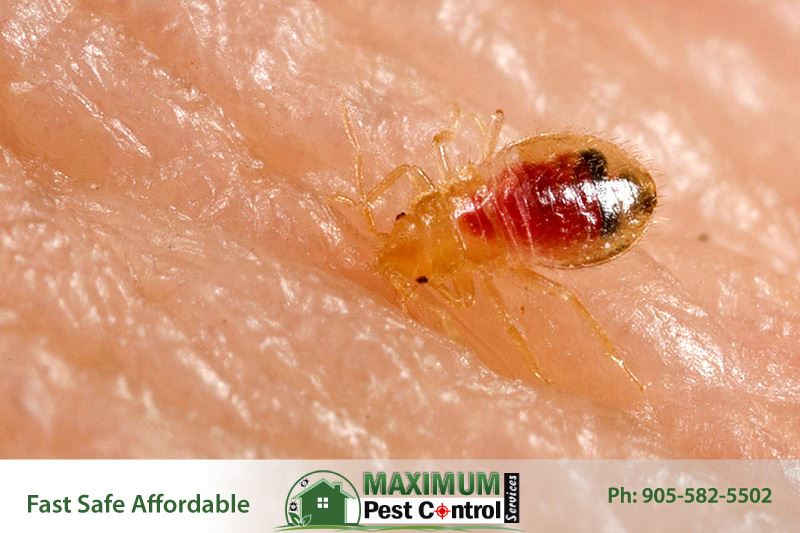 Unfortunately bed bugs prefer human blood, however they will also bite birds, bats and other mammals.
Bed bugs bite and suck blood from anywhere of the body, especially exposed areas such as the face, neck, upper torso, arms and hands.
Being mostly active at night bed-bugs stay close to where they feed, but they can travel long distances to get a blood meal as well.
If there is a heavy infestation Bed Bugs can also be seen during the day.
Bed bugs can survive up to a year on a single blood meal, hence their ability to survive and resurface after a long period of time.
Whether you just realize that you have a bed bug problem or its at infestation stage, Maximum Pest Control Service can help by providing complete bed bug removal service and pest control solutions throughout Hamilton, Mississauga, Burlington, Oakville, Brampton, Toronto and surrounding areas, simply call (905) 582-5502 and speak directly with bed bug removal experts