Hiring Pest Control Companies Or Do It Yourself Pest Control
When a question is asked "Can I do pest control myself?"
Yes, you can control and kill household pests like roaches, ants, rats, mouse, bed bugs, mosquitoes, flies, etc. without needing to hire pest control experts to do the job for you. To get rid of pest Do-It-Yourself, you can step on them, hit them, squash them, apply fogger bombs, chemical mixes and voilà pest problems are gone?
If only if that was that simple, then, there would be no pests in Canada because almost all property owner has at least once tried to eliminate pest problems using DIY pest control.
Here's how full blown pest infestation usually begins. Property owner in Mississauga sees a cockroach or a mouse run/sprint along the kitchen floor. Since this is an unexpected event, you carry on simply ignoring the initial sight.
However, seeing just one of these pests (Ants, Spiders, Mouse, Rat, Cockroaches, Bed Bugs) means that there are others lurking around the property. Because of the fact that pests breeding habits are someone shocking, don't let them infest and populate to uncontrollable numbers. At the first sign of pest infestation, either call upon professional companies specialized in pest control in Mississauga Ontario, or, begin investigating the causes and apply do it yourself integrated pest control measures.
Pests are a troubling concern for homeowners, business owners, and just about everyone else including our beloved pets. It is tempting to adopt the do it yourself (DIY) route for dealing with the pest threat, but many natural methods are either ineffective or are not used as they should be; resulting in a worsening of the problem over time and greater health and financial loss. There are many reasons to engage a professional pest control company not just to deal with a pest infestation but also to advise you on how to protect and maintain your property against pests.
Controlling Pests is a Serious Business Needing The Know-How
Most Mississauga homeowners or property owners do not have extensive knowledge of pest control strategies which is why they rely more on trial and error rather than a systematic program to treat pest problems. Professional and licensed pest control companies know exactly how to target each type of pest and how to do this in a controlled manner so damage to human or animal health can be minimized.
Buying and mixing pest control chemicals yourself is not recommended (particularly fogger bombs from online marketplaces) as their use and dosage can be confusing for the untrained eye, leading to a potentially dangerous situation, and in some cases incorrectly mixing pesticides or rodenticides can pose a fatal hazard.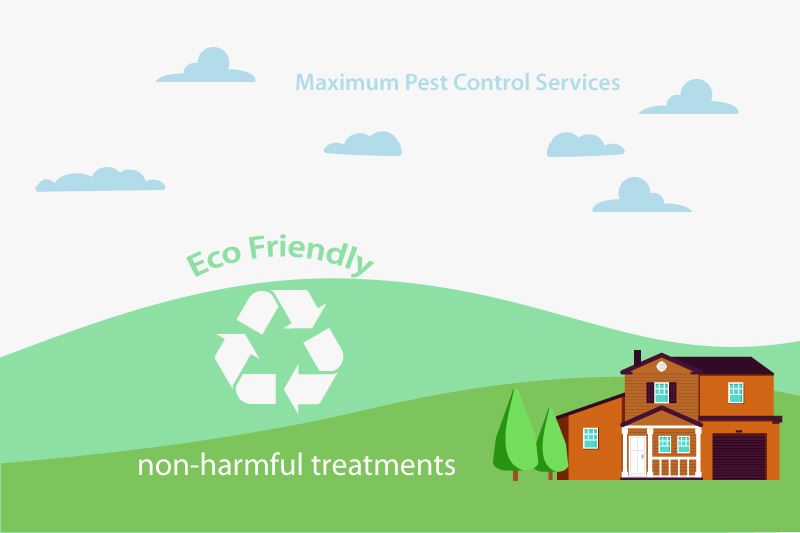 Homeowners that have domestic pets or harmless animals on their property may also be concerned about the effect of pest control treatment chemicals on their health. An experienced and licensed pest control expert can provide specialized solutions and knowledge of green products to lessen the risk to plants, pets, and people.
In business buildings, inaccurate and irresponsible use of pest control chemicals can lead to disastrous outcomes to employee or consumer health (which the employer can be sued for) as well as damage to valuable materials and stock stored at the property.
This is Not a Sales Pitch
Throughout our website, we've informed our valued customers about the importance of prevention, because just following simple processes such as triple checking the property, maintaining entry points, eliminating food and water sources for common pests found in Mississauga ON is a smart approach that every property owner can employ safely.
However, we've been discouraging the do it yourself pest control techniques for large scale pest invasion, this is not because we'd rather you hire our pest control technicians, but because its a smart and safer choice. For example: if your mobile phone broke down, you wouldn't take it to a car mechanic to get it fixed. Resolving pest problems quickly and successfully is what we do here at Maximum Pest Control Services in Mississauga ON.
Furthermore, you'll get faster results, that means, you simply let us take care of property inspection pests, control and maintenance treatment, prevention and cleaning. We specialize in dealing with all types of pests such as bed bug and rat extermination in Mississauga, wasps and house mice. As far as we are concerned, these pests do not stand a chance against our experienced team of pest controllers. Here's our proven track record, reviews for Maximum Pest Control Services.
Press Here for Better Pest Control Solutions
Do It Yourself Should Focus on Pest Infestation Prevention
DIY remedies (such as black pepper, certain herbs, over the counter fogger bombs, vinegar, pest killer sprays, turpentine for termites, etc.) may seem like a safe and cheap options on the face of it all, but they do not work quickly and in advanced cases may do little to hinder pest's infestation.
Do NOT Do-It-Yourself Pest Control for a Business Property Commercial Kitchen Restaurant
As a small business owner ourselves, we understand the importance of budgeting, expenses and cash flow, for businesses and commercial properties, a recurrent pest threat is a big blow not just financially but also in terms of consumer and client confidence. Naturally, business owners would rather avoid pest problems, but when rats, mice, cockroaches or wildlife problems occur, setting up baits or applying poison for pests may not be the best approach.
By engaging a professional pest control company, time, effort, and valuable stock can all be saved. If for example you operate a restaurant in or around Mississauga Burlington Oakville Hamilton Ontario, the last thing you would want is for your valued customer to see a cockroach running across the floor. Or worse yet, just imagine operating a shop in Mississauga Celebration Square and when the hard work of today is finished and you close up shop, cockroaches, mice, or rats begin their night shift working hard eating away your stock.
Let our expert team here at Maximum Pest Control Services remedy the pest problem through our commercial pest control services, stress no more about pests because as soon as you call (905) 582-5502 we'll arrange a suitable time for thorough inspection and draw out a plan of action eliminating annoying pests. We'll then offer you competitive rates and flexible options for you to consider hiring us.
IPM Is Not DIY
IPM short for Integrated Pest Management is a system of pest control using the latest green technology and techniques focusing on prevention, however its not a DIY pest control for already established infestation colonies. And while DIY pest killing products and chemical sprays are predominately marketed as being safe and non-toxic, they still need a specialist's hand in administering them and making sure they are used correctly because there are set standards and regulations using pesticides in Ontario Canada.
Contact Professional Pest Control Companies in Mississauga
Pest control companies be it in Mississauga, Oakville, Hamilton Ontario, or elsewhere usually have several years (if not decades) of expertise in dealing with different species of pests, insects and wildlife, as well as knowledge and access to all the latest technology and environmentally safe chemical treatments. We can inspect your property, formulate an effective plan, monitor progress, and deliver results and prevent future infestation.