Are Pest Control Services Worth It To Call?
Maximum For Home & Business Service For Immediate Pest Control Services Nearby Oakville Ontario Types: Residential & Commercial Pest Control www.maximumpestcontrol.ca (905) 582-5502. Experts Licensed & Bonded Exterminators. Done Right The 1ST Time With  MAXIMUM.
Things Your Pest Control Expert Wish You Knew
Experts can only wish for some things, and this includes pest control service personnel. Too many times, when they go inspect a house for mice and pests, they wish that the owners knew some things that could have prevented the pest infestation.
Here, we will share several of these to give you an idea what a pest or mice removal service personnel is thinking.
They Wish You Had Faith in Them
It is not uncommon for house owners to ask a lot of questions. The thing is, sometimes some house owners think they know better than the pest exterminator guy. In some cases, the home owners have doubts about the exterminator's judgment and recommended solution.
A reputable pest control company is bonded & licensed. As such, they are required to go through extensive trainings, and pass the certification of the government & ministry approval. This certification includes a verification of the operator's knowledge about dealing with chemicals and safety, so your exterminator knows what specific type of items to use to get rid of pests and yet keep your household safe all the way.
In addition, an exterminator also has years of pest control experience, which is something you can never have if you just Google for solutions. Let the expert do his job, and then enjoy a pest-free home.
They Wish You Had Done Your Research Before Hiring
Sometimes, you call pest control services and they do a bad job. And then you call another company, and the second company's personnel has to fix the problems that the first one created.
This happens a lot of times, especially if the owner wants to save on money. He calls someone who claims to know what he is doing, and this person ends up aggravating the problem much worse.
Before you hire as a final decision, make sure you research about the credentials of the exterminator. Make sure that they are bonded, licensed, well trained, and that they have a good online reviews reputation.
They Wish You Knew They Are Not Pest Control Magicians!
Pest control experts are not Pipers. They are  a team of educated trained professionals, but they cannot control outside nature. They cannot do everything you ask them to, especially if you will not let them do their job in a way that they think is reasonable and efficient to get the job done. That includes the medicine been used by professionals versus the stuff you buy at hardware store which not as effective.
Also, many customers want a permanent solution, but they do not want to change their lifestyle of habits. They think that the pest control personnel is inefficient because the pests came back. The truth is that the pest was eradicated, and yet the homeowner cannot keep a clean house, and this is why rodents come back on no time, especially if you have many outside structure gaps as entry points and you haven't done nothing about it such as sealing all the exterior gaps and caulking around the pipes, as well as covering broken vents and open weep-holes.
They Wish You Knew That Not All Pests Are Bad
Not all insects are pests. In fact, some of them are helpful, and they kill the bad pests around us. Examples of these are spiders and lady bugs. They eat mosquitoes, gnats, and flies, and getting rid of them is not entirely a good idea.
Sometimes, people call pest control service technicians to get rid of lady bugs, not knowing that these creatures are drawn to the homeowner's garden. These bugs are great because they eat bad insects that can harm the yield of the homeowner's garden on the long run.
The thing is, if there are lots of spiders or lady bugs, you may have an infestation of bad insects and this is why the spiders and lady bugs are there. What you need to fix is the infestation, not the spiders and lady bugs. Make sure you keep the trees trimmed away from your house roof at-least 5 feet away.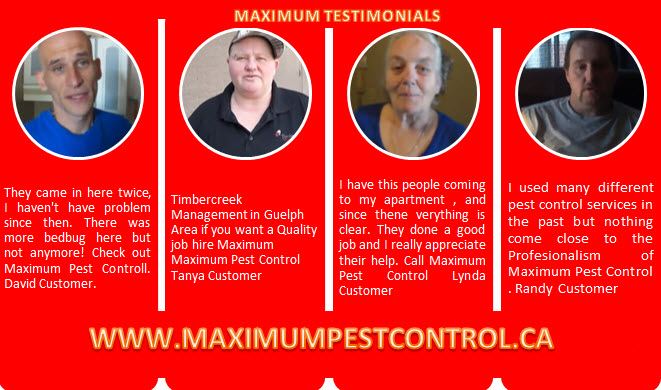 Consider Local Experienced Pest Control Service Providers
Always trust your exterminator, provided that you have done a good job in investigating about their online google reviews reputation. Pest control service companies only want the best for you, and you will get better results if you do not skimp on the cost of required pest control service. What they want is to give you the best working solution, and this solution will be permanent if you also change your habits.
If you in demand of a pest control service solution, just type "pest control service" and google will show you many different local revised real-time results that are nearby you to start calling. Read all shared community reviews about each required company, and then decide which one is the best for your specific needs.
OAKVILLE ONTARIO
Southern Ontario Town, Located In Halton Region Between Hamilton & Toronto & Considered Ontario Largest Town. Its One Of The Most Populated Areas In Canada Coordinates: 43.4675° N, 79.6877° W At Elevation 99 meters Above Sea Level.
If you require a trusted pest control company look no further, contact your local pest control provider Maximum Pest Control Services www.maximumpestcontrol.ca (905) 582-5502 or (289) 396-5426 or (905) 330-2102. Open 24 Hours Pest Control.
Maximum Pest Control
115 George St, Unit 104
Oakville ON L6J 0A2
Canada
Phone: (905) 582-5502