Posted: January 12 2020 Tags: 24 hour pest control, 24 Hours Exterminator 24/hr Professional Pest Control Services, 24/7 emergency Service, burlington on pest control commercial inspection, commercial pest control, commercial pest control exterminator, commercial pest control in Oakville, commercial pest control near me, commercial pest control provider, commercial pest control services in hamilton, property management commercial pest control service in hamilton

Pest infestation on going problems can cause structural damage to your property. They can even contaminate your premises with infections and lead to serious food and water borne diseases. If you own a business anywhere in Oakville, Burlington & Hamilton, Maximum commercial certified pest control experts would be delighted to solve this problem for you by providing commercial pest control service solutions  to businesses nearby.
Irrespective of whether you own a restaurant and want to give your customers an exotic fine dining experience, or run a fitness gym hoping to provide your subscribers an unmatched clean workout environment, or a local store that hopes to be the top choice for retail customers – having the pests on your property under check is a crucial thing. Don't let the unpleasant sight of these tiny organisms or pests issues turn your customers away and tarnish your hard-earned brand name. After all, any business is only as good as its reputation.
One of the services Maximum known for in Burlington and its surrounding neighborhoods, is our pest control inspection service and professional extermination with the best pest prevention program. If you are considering investing in a new property, we can't emphasize the need for a thorough pest inspection enough. It is also highly recommended for premises you already own and carry out business from. Keeping a finger on the pulse of any ants activity or rodents damage, or just a regular parameters spray conditions that will help the destroying organisms, UN-monitored food and water sources and the existence of any and all pests is crucial.
As a part of our pest management service, we look at the property through a microscopic lens, closely inspecting the interiors as well as the outside exterior structure for any damages – under roof eaves, washrooms, attics, windows, storage units, you name it. Our team of experienced technicians are trained to spot early warning signs for the presence of pests and save you precious time and value effort with our complete commercial pest control solutions.
A widespread problem that Canadian commercial businesses and residential have been facing increasingly in the recent past is a nasty bed bug situation. These pests travel easily and multiply very quickly. While bed bugs aren't known to cause lethal transfer diseases, they do feed on human and animal blood and lead to severe skin itchy conditions. The sooner you call us, the cheaper and more effective your bed bug inspection as well as extermination pest solution service will be.
Some of the other most notorious pests that effect a wide range of commercial units are rodents both rats and mice. They not only contaminate food and transmit multiple deadly diseases especially with white footed mice, but also carry secondary pests in their fur like ticks, mites and fleas to name a few. If your property is infested by these rodents, please get in touch with Maximum emergency pest control specialists calling (905) 582-5502 and we will be thrilled to serve you better.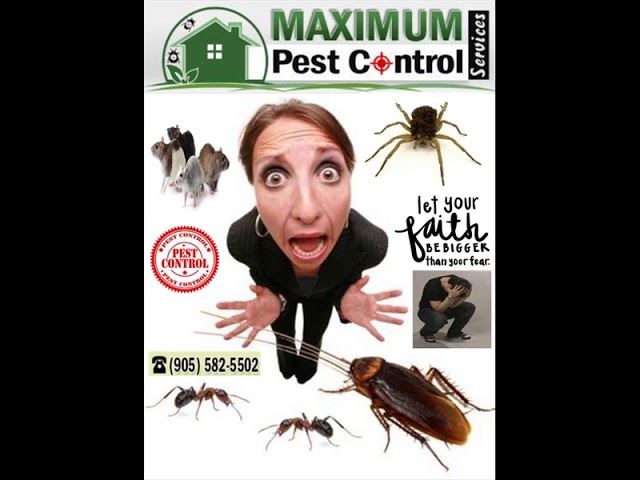 Ant control is another aspect of pest prevention services we specialize in. These pests are quite common around the smallest of food sources, and often lead to nasty bites and serious cases of food poisoning. Sprays and powders readily available in the market can solve this problem in some cases. But properties with massive infestation require the use of effective insecticides and specific baits that can be provided hiring reliable pest control exterminator at Maximumpestcontrolservices.
It is all too likely that as a business owner of any type in Ontario, you have enough things to worry about – finance management, supplies procurement, upkeep of property, customer service, the list goes on. Given this, it is understandable if you don't have time to keep checking the pest population on your property. We would love to take this one item off your plate by working out an arrangement for regular pest control program visits at your premises. At a frequency that suits you – bi-weekly, monthly or bi-monthly pest control program.
While all these are great ways to solve a pest problem, the best way to deal with this issue is to prevent the germination of pests in the first place. Our number one recommendation to commercial offices in Oakville is to take a preventive approach integrated pest management. If you own a commercial space, it is more than likely that your property is prone to attack by one or more pests like rodents, cockroaches, fleas, bed bugs. Don't wait for the little pesky creatures to take over your property in a matter of time. Give us a call and we will attend to inspect your business place closely and apply with a preventive spray if required. We look at one and all places that germs love to hide in – windows, doors, dark nooks and corners, water sources like restrooms and leaky drains, food storage units etc.
Rodents, cockroaches, spiders, ants, wasps, … all of these pests can cost you precious time, money, employees' health, and even your good reputation! Don't let pests take control of your business. Call Maximum now and book a slot that suits your schedule! We will send our team of experienced, licensed and professional personnel to inspect your property and offer a fully customized solution. How we approach pest control in a restaurant, that sees high footfall and stands a huge risk of food contamination, is entirely different from how we fumigate a warehouse that stores an array of products in bulk and has multiple dark hidden corners. Depending upon the kind of business you own, the kind and the extent of the pest situation you are faced with, we devise a tailor-made solution by Maximum commercial pest removal.
Maximum professional pest control services prevention are fast and efficient proven solution and are priced much lower than the market average. After all, everyone deserves a pest free zone, healthy and happy life! What's more, our pest control solutions are environmentally sensitive, and Maximum are insured bonded pest control operator business license from the ministry of environment. There is really no reason to put your pest control needs off any longer. We are a leading company and just one call away (905) 582-5502 or (289) 396-5426.