Guide to Choosing The Best Commercial Pest Control Service
Any commercial business owners knows the importance of pest free operations through professional pest control and management practices. Especially true for local businesses handling food and serving customers, because having a pest free environment is essential to the reputation of the business. No-One likes to see an odd cockroach or a mouse run across the restaurants floor, and yet, when left unchecked, many pests infest commercial properties due to easy access to food and water sources.
To be able to keep the company's image and reputation as safe and clean, start by making sure preventative measures are taken, training staff to look out for early signs of infestation coupled with regular inspection and maintenance should be as important as other aspects of operating a business.
As a business owner, you're most likely too busy with other business tasks and may seek out services to handle pest problems, regardless of why, choose wisely when it comes to a pest management service provider, look for one that doesn't cut corners, is reliable, and will be able to deliver long term results. Since finding one can be tough if you don't know what to look for, in this article, we'll share some insights for choosing the best pest control company.
Furthermore: you can skip the reading and simply hire Maximum Pest Control Services for comprehensive range of treatments and complete pest control solutions. We offer flexible commercial pest control for businesses operating in and around Oakville, Burlington, Milton, Scarborough, Hamilton, Mississauga.
Reviews for Maximum Pest Control Services
What is Pest Control?
Let's get this out of the way for new business owners who are experiencing problems with pests. Pest control is a type of professional service wherein pests such as insects, bugs, rodents (rats, mouse, cockroaches), and even wild animals are handled by a licensed professional. Pest control and management ensures safety against diseases that might be caused by pests. It is also beneficial to prevent, mitigate, and reverse the damages of pest infestation. Such services can be in the form of:
Chemical pest control
Biological pest control
Electronic pest control
Physical pest control
Businesses such as restaurants, hotels, kitchens, food storage facilities and even shops need preventative pest control measures to protect the products and services that are being offered. Without integrated pest control, pests such as cockroaches, mice, wasps, termites, ants, rats and even wildlife may not only cause damage to property, such problems might also disgust patrons and potential clients.
Who is a Pest Control Technician?
A pest control expert is someone who is specialized in understanding the biology and living habits of pests found in urban settings. They are licensed and experienced in handling, exterminating, and preventing pest infestations.
Pest control technicians are sometimes referred to as 'Pest Exterminators' since they need to kill off pests and remove them as part of their work. However, pest control technician is a broader term that includes critical tasks such as preventing the infestation from occurring in the future. This basically means, there is a big difference between exterminators and qualified pest control technicians. You'd be pleased to know that Maximum Pest Control Services team is licensed, authorized and fully insured serving our local community.
Where Can I Find a Pest Control Company for my Commercial Property?
The first step in choosing the right pest control company is to know where and how to look, you can seek such services in any of the following ways:
Surfing the net and searching Google. Pest control and management services usually have their own websites where details of their services are listed. You can also ask for an advice and even pest control service rates via their website.
Classified ads in local newspapers and magazines. Although not as popular as before local pest control firms often advertise through print media to highlight their service types, company name and contact details and at times offer discount coupons.
Through referrals. Proven and time tested way to get any type of service is once again through word of mouth referrals. You can ask friends, family members, and as a business owner, it is smart to ask the business next door about their experiences.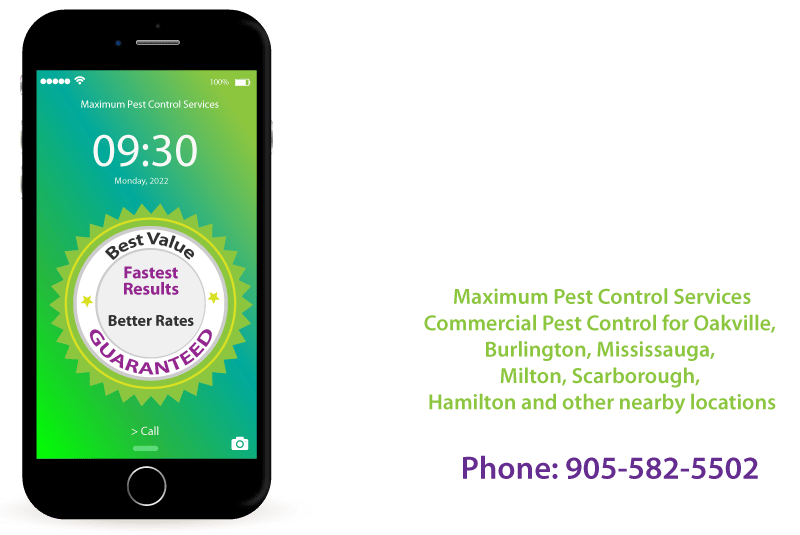 How to Select The Best Pest Control Firm?
In order to choose the best pest control firm for your business, you have to go through a series of steps. You also have to research thoroughly about the company or the person you are about to hire.
Business owners, especially ones operating throughout Oakville, Burlington, Milton, Scarborough, Hamilton, Mississauga should especially be thoughtful because choosing your pest control specialist is like an extension of your company's reputation. Here are some additional points to consider:
Gather Testimonials
Look at the reviews and feedback of their previous clients. One referral is not enough to trust immediately. At the same time, one bad review is not enough to disregard a service instantly. Cross-check what you have heard or read. Find out why we are proud to be #1 choice for pest control services by reading through our genuine reviews.
Safety Check
Another important thing to consider when canvassing a pest control service is the safety of its services. Factors such as the methods and the materials used for dealing with pests might concern you.
Make sure that the chemicals used by the pest control firm are in line with your company. If your brand is for promoting green solutions and sustainability, having a partner pest control service with the same values is a plus for you.
Some customers might also be particularly affected by the type of chemicals used in your establishment. This could have implications for allergies, children, pets, and immunocompromised individuals.
Assess Customer Service
Customer service should also hit the mark. Having a pest control firm that cares for its valued customers is a green flag. No matter how effective they are at handling pests, if they can't handle their clients properly, it is a big no-no.
Additional Points to Consider
Other factors that you should take note of when choosing the pest control expert for your commercial business include cost and credibility.
We understand that at times, dealing with pest problems can often be stressful for all business owners, after all, operating a restaurant, takeaway shop, commercial kitchen or other type of business handling food requires every dollar earned well spent. And yet, our advice to all our valued customers operating a commercial property is to invest in a good, effective, and reliable service even if it costs few additional dollars.
Also, credibility should be upheld. Many fraudulent and deceitful so called 'experts' are always targeting unsuspecting people (especially our elderly citizens in our local communities). Make sure to look at their qualifications and other supporting documents that would back their claims.
Choose Only the Best
Your business should always be at its best. This entails protecting your brand, your image, and your reputation. Choosing the right pest control service is never a gamble. It only promises you the assurance and service that you deserve. Beat whatever pest comes your way by hiring only the best.