Tips To Consider in Protecting Your Home or Business Against Cockroach Breakouts
Cockroach are something that people find disgusting and despicable especially if you live nearby Oakville & Hamilton Ontario, which is why most people try to use just about any available online how to's searching YouTube videos to find out how to keep these filthy insects from their business and homes. The frustrating and often irritating part is that when most do-it-yourself remedies do not work, you may begin to give up. But do not worry or freak out because learning why they come into your house or business in the first place can at least help prevent Cockroach infestation as well as equip you with proven knowledge to deal with them.
The Places That Cockroach Hide In
These nasty insects love warm, moist places. Those that are sheltered and near sources of water and food. They can also survive in places with temperatures like a freezers (during summer) or a oven (during winter). The kitchen and bathroom are the common areas that often get infested with many cockroaches because places not only allow them to hidden well, but also allow them to breed rapidly.
One fact about these insects is that they can live without food or water for long periods of time. They can also stay alive shedding their legs for almost one week. Cockroaches are also capable of holding their breath for about 45 minutes and slowing down their heart rate. They are also more resistant to radiation. They have extreme survival ability if the environment changes quickly.
Tips You Can Consider to Prevent Cockroaches from Homes, Condos, Townhouses & All Daycare Centers
Although there are effective solutions you can implement yourself, calling pest control exterminators near you to get rid of Cockroaches is advisable. For Do-It-Yourself: consider the following:
Sanitization & Cleaning
When dealing with any type of pests, re-cleaning of the entire property is advisable. Disinfect kitchen, toilet and bathroom and the entire floor of your property. Check water sources (leaking taps (interior and exterior (under the property as well as), gutters which may collect rainwater etc.). Food sources such as kitchen cabinet must thoroughly cleaned. Check any containers (rice, grains etc.) and paper bags which may be ripped (as in eaten away by mice or cockroaches).
Also, get rid of any outside spaces where these insects can live and thrive such as backyard or garden by removing branches, timber logs, bricks, cleaning and sanitizing garbage areas outside the property. If you do have pet companions, make sure to conduct regular sanitization of their living space as well.
Use Roach Pesticide Dust and Sprays
It is a good attempt in controlling the presence of these insects in your home using gel bait and or organic sticky glue trap boards you can find at your local hardware store. When using such methods, you need to perform regular maintenance as well as sealing up holes and cracks (entryways) around the property. Inspect the exterior of your property, and once you find these cracks/gaps, make sure its first sprayed and dusted with the pesticide before closing them up.
Always Keep Food Sources Kept Sealed
Make it a habit to store food sources in airtight containers that are well covered and sealed. Your efforts will pay off controlling roaches if you make sure that there is no water leaking in your home anywhere in kitchen and washroom since any place with a water source is perfect place for these fast breeding insects.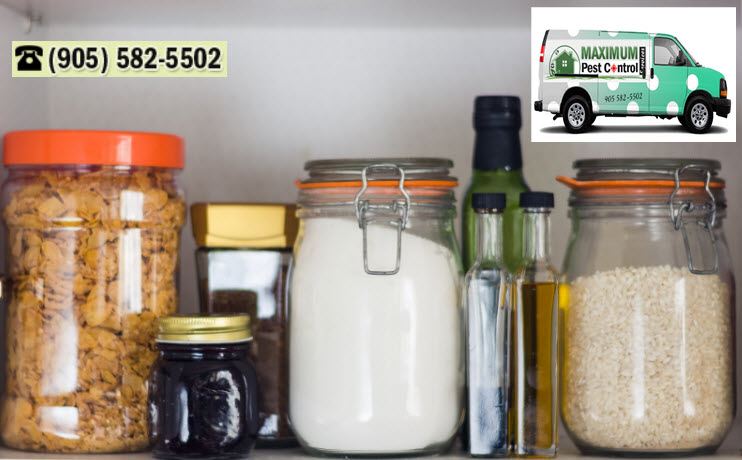 Hire Pest Control Professionals for Cockroach Extermination
It is a wise decision to call upon professional pest controllers for exterminating cockroach infestation. Pest control experts are equipped with various ministry approved quality products, along with the latest techniques to help in the prevention of future cockroach outbreaks in your home, condo, townhouse or any type of local business requiring the help of an experienced pest control company.
Remember that anyone can just spray around pesticides, and yet, experienced and licensed pest control technicians understand the biology and living habits of pests. This means, eliminating pests such as cockroaches successfully requires a thorough action plan so that they don't come back bothering you again.
Maximum Pest Control Services has proven track record serving neighborhoods around Greater Toronto Area including Hamilton, Oakville, Burlington, Milton, Scarborough, Mississauga Ontario, and we also offer competitive rates for all pest control solutions we provide.
Contact Maximum Pest Control Services
Other Ways to Get Rid of Cockroaches
A thorough pest control inspection around your property is a must. Even if can't see them often, monitor the presence of cockroaches regularly. Double check and conduct regular inspections outside your property as well. For example: if there are any timber logs which you kept for later use may be the perfect hiding space for cockroaches.
Do not ignore the importance of regular clean and maintenance of the entire property. Remember that if you see just one roach, that usually is a good sign that there is an infestation. Meaning, prevention is always better and easier compared to elimination.
When you have an issue with any pests such as Cockroaches, Mice, Rats, Bedbugs, Ants, Fleas, Wasps, Bees, Spiders and others, and living in or nearby GTA, Burlington, Mississauga, Hamilton, Oakville ON calling our courteous team (289) 396-5426 or (905) 582-5502 can help control and eliminate pests thoroughly.
Maximum Pest Control Services
115 George St, Unit 104
Oakville, ON L6J 0A2
(905) 582-5502