What are Bed Bugs and How Does Bed Bug Treatment Work
One of the most unsettling of all the pests found at home are the bed bugs. The worst part of having a house with bed bugs infestation is that these little tiny pests feed on human blood (and do so while you are sleeping unaware). If bed bugs are not controlled and eliminated quickly, the infestation can quickly get out of control and bed bugs can rapidly multiply in to hundreds if not thousands in numbers.
Bed bugs are insects from the genus Cimex family, they feed on the blood of birds, mammals humans as they are nocturnal (active during night time) it's hard to spot them for the untrained eye. Bed bugs are reddish brown in color and roughly the size of a single grain of rice.
There have been many cases where Canadians have had severe side effects due to bed bug bites too. Keep in mind that Bed-Bug infections can cause all sorts of health issues ranging from skin rashes, uncomfortable and often painful itching, severe allergic symptoms and even psychological effects if they're left untreated.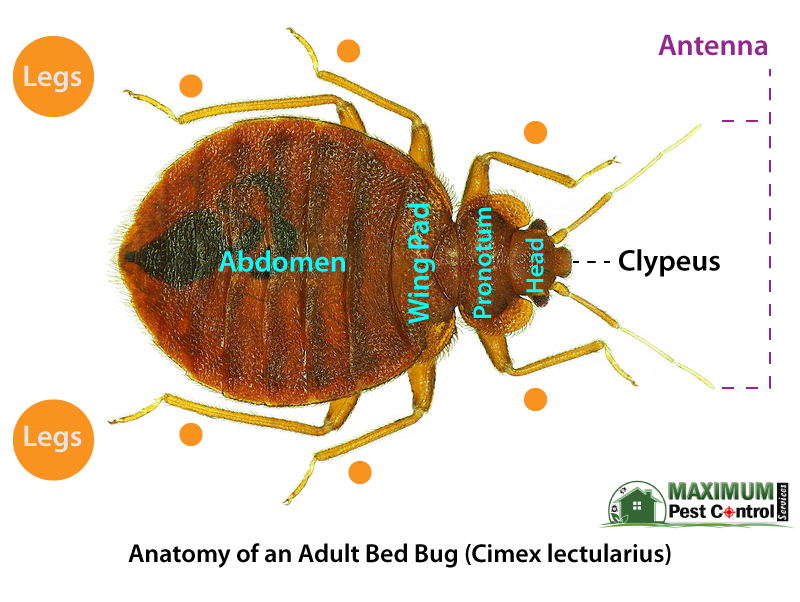 How Does Bed Bug Treatment Work?
Identification: finding out the cause/s of the infestation (was it the friend's luggage that brought in the bed bugs or is it the pigeon nest at the next-door neighbor's property) as well as using ultraviolet light to see where they are at (including their eggs) is the first level.
Heat treatment: this is done by heating the room to 50 °C for more than 1 hour. Also, washing clothing and bed linen at high temperature can be labelled as heat treatment for bed bugs
Cleaning: regular vacuuming and disinfecting furniture to remove dead bed bugs.
Pesticides: mixing safe and effective pesticides for bed bugs is critical for completely destroying their infestation is the second last step
Frequency: depending on many factors such as property size and the stage of the infestation, the above steps may be need to be repeated to treat bed bugs and eliminate them completely.
Don't Need to Battle a Bed Bug Problem On Your Own
The fact is, pest problems can occur anytime and anywhere. Even your next-door neighbor unknowingly can bring in bed bugs to your home. Our team here at Maximum Pest Control Services has assisted many of our valued clients living Oakville, Burlington, Scarborough, Milton, Hamilton, Mississauga Ontario exterminating bed bugs.
Only a professional pest control technician can quickly identify and eliminate these insects. Ignoring the presence of bed bugs can make your life miserable.
There have been many occasions where bedbug infestations spread at a very fast rate making many items (beds, furniture, mattresses, cushions etc.) unusable. Although most people think that bed bugs are a problem for dirty households or only for hotels, motels, hospitals, bed and breakfast accommodation providers, and yet, nothing could be further from the truth. Because any property can be invaded by these little creatures, and infestation is hardly due to a lack of hygiene.
Call Your Local Expert Bed Bug Exterminators
Whenever you suspect bed bug problem at your residence, you can simply call your local pest control company instead of trying to resolve the issue on your own.
Here at your local friendly team at Maximum Pest Control Services we aim to be the Southern Ontario's best pest control company.
We are confident as our focus is to better serve our local community by providing exceptional service and cost-effective solutions when it comes to eliminating pests from residential and commercial properties.
Perhaps almost all other pest control companies found in Southern Ontario throw around empty claims as "we are the best" or "we are environmentally responsible" "we are the cheapest" but the fact is, you'll love our proven results, strategic approach and friendly team just as our valued clients before you. Perhaps you'll want to read genuine reviews for our pest control solutions here before hiring us.
Our company never rests on its laurels, we continue to evolve with the latest technology. Our assets are our highly trained expert team performing at the highest level of precision eliminating pests and removing wildlife. For us, customer service isn't a word but rather a philosophy we live by each, and everyday.
When it comes to pests and wildlife we really do know how to get rid of them as our team members have many years of knowledge regarding pest's anatomy, habits, their biology and life-cycle. Currently we are conveniently located and can be at your service in Greater Toronto Area including Oakville, Burlington, Mississauga, Milton, Scarborough, Hamilton Ontario Canada.
Any and all pests controlled and removed. Bed Bugs, Mice, Termites, Cockroaches, Silverfish, Ants, Wasps, Bees, Bird Lice, European Starling, House Sparrow, Pigeons, Rats, Spiders, Mosquitoes, Fleas. You name it, we'll get rid of it.