What to Look for In a Pest Control Company?
Choosing a pest control company isn't a rocket science, although fully qualified and experienced pest control companies need to have knowledge about many aspects of, species of insects, pests as well as anatomy and biology. Because only through understanding pests intimately can a pest control company can successfully eliminate them.
At its core, you want to choose a pest control company that you know will thoroughly exterminate, remove and also assist with ensuring that the pests don't come back visiting your residential and or commercial property. And surely, you'd want to choose a company that offers competitive rates for maintaining and controlling pests and wildlife.
Personal interaction is generally the best way to gain confidence in your choice of exterminators. You may be safe if you go with the recommendations of family or friends without first meeting the people they recommend, but it can still be challenging to select the best pest control company due to few factors which are critical for getting professional solutions.
Regardless of how you find your next pest extermination experts (whether through family or friends' recommendations or through searching online) it's always best to be prepared with few questions so that you can be confident in knowing if they answer your questions and whether they seem knowledgeable enough to treat the pest infestation problem correctly.
Chemicals and Pesticides
Explain how to choose the right pesticide based on the pest problem at hand, as in, pesticide selectivity, pesticide toxicity, and pesticide effectiveness. How many times the treatment will be applied, and for how long will the treatment last for eliminating pests completely.
If you have concerns about the chemicals used to treat your home or business property for pests, you can ask for a Material Safety Data Sheet (MSDS). This information can be useful to find out if pest extermination treatments affect humans and or animals. Particularly useful if you, or any member of your family is sensitive to chemicals and suffer allergies. As you would agree, when you are hiring the insect or pest control company to expel and eliminate pests in commercial settings (e.g. food preparation areas, commercial kitchens or restaurants) understanding the safety of chemicals used become more critical.
If the pest control specialists cannot provide information or MSDS document, this can be another indication that you may not want those pest control companies treating your home or business property. Because in Canada every material that is controlled by WHMIS (Workplace Hazardous Materials Information System) must have an accompanying MSDS that is specific to each individual product or material. Basically, you do not want the pest control company come in spraying harsh and dangerous chemicals to kill of pests.
License and Compliance
Another way to determine whether or not a pest control company is safe to hire is by asking for their license number. You can contact your state's Department of Agriculture, Pest Control Division, Plant Industry Section, and they will help you find the information you need. If an exterminator is licensed, they will be able to provide you with their license number. If the company representative cannot provide such information, they are perhaps not properly licensed, and it is only in your best interest to choose another exterminator who is licensed.
Guarantee and Service Coverage
Exterminators should always offer a guarantee regardless of whether they are an established company or a new one. The company should provide you with some type of written warranty that lists worked performed and expected outcomes that is guaranteed in writing. If the exterminator offers no guarantee at all, then this perhaps indicates that they are not confident enough in their work to stand behind it.
How Long Have You Been Operating?
You will want to hire a pest control company that knows the local area well and the type of pest problems found in such local communities. For example: some areas in Mississauga Ontario Canada compared to Hamilton ON or let's say Texas USA may have different pest problems and species of insects to deal with. As a result, experienced pest control companies will be more adequately knowledgeable to serve you eliminating pest issues and complete destruction of pest infestation.
Remember, when it comes to successfully controlling pests, temperate, climate, fertility of soil, condition of landscape and even nearby water sources such as lakes & ponds are some of the factors that can determine successful pest control outcomes.
Additional Services
If you are hiring a pest control company for general pest control treatment, they should be willing to provide you with a quote for other complimentary services such as fixing cracks around the property (e.g. windows, or doors) which is often used as entryways for pests and wildlife. This way, treatment can be more effective at ridding your home of pests, and also, you wouldn't have to hire additional services such as those of handyman or cleaners.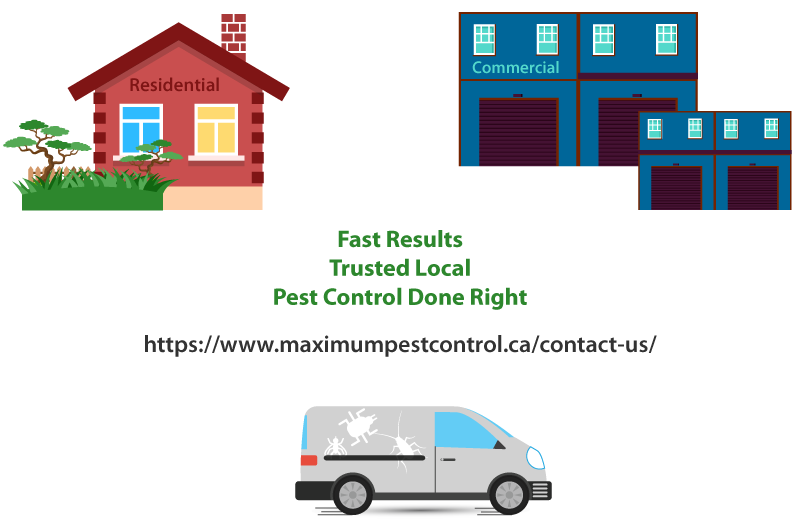 Living In or Nearby Hamilton, Oakville, Scarborough, Burlington, Mississauga, Milton?
Professionally, all pest control starts with a thorough property inspection, plan of action, extermination, removal of dead pests, cleaning of serviced areas. Your aim in hiring a pest control company should be to find one that will take care of pest problems in a holistic manner with least disruption to your normal day to day life.
We would rather you simply call our professional and friendly pest control experts whenever you are faced with pest problem. Our well established and growing pest company is proud to be #1 choice for pest control serving residential and commercial properties throughout Southern Ontario. Offering cost-effective custom treatments according to problem at hand ensures we provide best value for money for all our valued clients. Furthermore, our commercial clients enjoy solutions where we can take care of your commercial property (kitchen, hotel, motel, childcare, restaurant, warehouse) for it staying pest free using our flexible monthly, quarterly or yearly pest control service packages.
We are patiently waiting to answer all your questions and to arrange a property inspection for types of pest control and treatment options.
Contact Trusted Local Pest Exterminator