Hotel Owner's Guide for Controlling Pests
Let's admit the facts, we do live in a great country, and tourists (whether local or international) know this as well. For example: Hamilton Ontario Canada, City of Waterfalls, not to mention the world known Niagara Falls just a stone throw away.
Walk, hike or cycle along the famous Trans Canada Trail or simply step back in time in Old Oakville along Lake Ontario in South-Central Oakville ON.
How about that good old retail therapy? Mississauga has you covered with Square One Shopping Centre (Ontario's largest shopping mall, and second largest in all of Canada)
Tourism is a huge industry throughout Ontario Canada employing thousands of people. Hotels Motels or any other type of business offering accommodation such as Holiday Inn or Hilton Garden in Mississauga or Oakville or whether its Waterfront Hotel Burlington, no hotel owner / manager can absolutely guarantee pest free environment for guests. Reason? Pests and annoying insects are just too clever despite all efforts made by hotel owners (or managers in charge). Pests find their way into all types of properties.
The worst thing that can happen to any business is pest infestation which might ruin your guests well deserved rest and relaxation. And worse yet, they go online to review your hotel or motel as having "pest problems".
Due to our unique climate and location on planet earth, we have native wildlife which can also disturb your guests whom may not be familiar with interacting with wildlife. Keep in mind, Maximum Pest Control Services also specializes in wildlife removal solutions serving Hamilton, Oakville, Mississauga, Burlington, Milton, Scarborough and nearby areas in ON.
How to Deal with Pests & Insects
Best way to keep your hotel holiday inn or motel is through hiring pest control experts to maintain the property, ideally, you as the manager of the property should be focused on serving your guests.
Professional pest control companies can implement Integrated Pest Control measures, maintain as well as conduct regular inspections of the property. Once again, Maximum Pest Control Services offers flexible options where you can hire us for either one off service, or, we can provide weekly, monthly, quarterly or yearly pest control service packages taking care of all types of pests and insects.
Let us share helpful insights to keep the critters away and your hotel guests to stay.
Seal All Crevices and Gaps
Unwanted guests "pests" will self Check-In usually not through the front door like normal guests, but rather, pests will find their way in through small spaces below and or under the doors and windows. Furthermore: any types of cracks nearby pipes or bricks or the roof will also let the pests to find their way in. To keep pests and bugs from finding their way into your indoor and outdoor accommodation settings, make sure that all entryways are regularly inspected, maintained and cracks and gaps covered.
There are many approaches for this, you can use foam sealant of the same color as the space you are fixing or even consider fine steel wool dependent on the pest type. If unsure, call 905-582-5502 for advice from our pest control and management experts here in Hamilton, Oakville, Mississauga, Burlington, Milton, Scarborough and nearby areas in Ontario.
Use Scent Against Pests and Insects
Most types of pests, insects, bugs and even some species of wildlife have an highly evolved odor-sensing system, whereas some pests actually rely on chemicals and smell to communicate and survive. That means, pest's sense of smell relies on recognition of tiny particles in the air called "odorants". Any form of odorants allows them to track food and water, gather in groups for socializing and colonizing, and even for mating.
To work around their pesky superpower, you can implement pleasant scents around the areas frequented by your guests. You can even consider natural options as well as make a selection for your guests to choose from peppermint, lavender, and cinnamon which is appealing to humans while revolting against some insects and bugs.
Maintain the Laundry Area (Hotel Motels)
As you know, there are many different ways to handle daily cleaning of bedsheets, towels, pillow cases and other fabrics, you may have in place preset ways for washing and ironing, and yet, at times, steam cleaning as well as washing items at higher temperatures may get rid of pests stopping them from spreading.
For example: despite all your efforts, particular guest may bring in bed bugs and spread them through the entire hotel or motel rooms. Heat treatment can be an option to eliminate bed bugs and their eggs which usually spread through the Hotel Laundry.
While the laundry room is the center of daily cleaning and washing, it can also become the nesting and spreading place for lint-loving pests (e.g. mice, silverfish, fleas, bed bugs). To avoid infestation, routinely disinfect and clean the machines before and after each use. As well as vacuum and disinfect the surfaces and regularly air the Laundry room. Because humidity can be an invitation for unwanted guests called PESTS.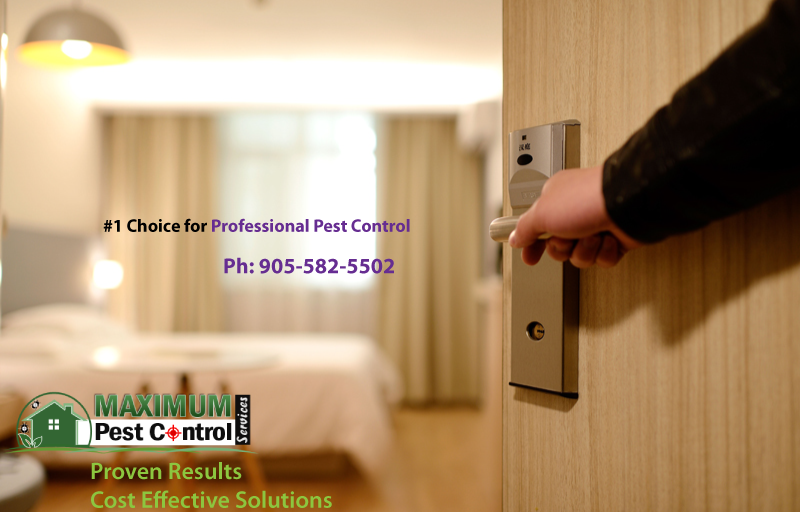 Professional Pest Control for Hotels
Avoid losing valued guests due to pest problems, inquire about our cost-effective pest control for Hotels which focuses on prevention so that you'll continue to enjoy providing pest-free environment for your valued guests.
Do never make an honest mistake as to say "well, our Hotel doesn't have pest issues" or "our motel has never had pest problems before", instead, make sure that you take preemptive steps so that your hotel doesn't. This is where you can rely on Maximum Pest Control Services experience and qualified technicians, we currently service many neighborhoods and continually expanding our service areas Greater Toronto Area including Hamilton, Oakville, Mississauga, Burlington, Milton, Scarborough and others nearby Ontario Canada.